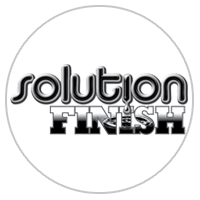 Solution Finish originated in Huntington Beach, California, which is known as the car care capital of the world, and maintains manufacturing facilities in Long Beach, California. The company is committed to providing the most effective, highest quality trim restoration products for professional detailers.
Their award-winning Black Trim Restorer is the only product on the market that actually removes oxidation – it doesn't just cover it up like many other "quick fix" products. Solution Finish combined ancient ingredients and advanced polymer technology to create a product that truly restores and protects any originally black plastic or vinyl trim, leaving a deep, rich black finish without the "wet look" and greasy residue.
A consumer driven company, Solution Finish continually researches and seeks feedback from customers to ensure their product surpasses expectations and is absolutely the best in the business. We highly recommend you try Solution Finish if you're looking to restore your faded, oxidized black trim to a better than new finish!

Solution Finish is an incredible new product that restores originally black surfaces to a deep, rich black with-out the"wet look" shine that dries quickly with no greasy residue.